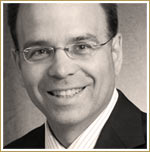 MARK A. KAHRS} A fourth-generation Kansan, Mark A. Kahrs is the grandson of a lawyer and the son of a small business owner. Growing up, he saw the effect of unpaid debts on small businesses – as well as the law's power to bring a just conclusion.
After graduation from Wichita's East High School, Mark earned a BA in Business Management from Wichita State University. He earned Dean's Honors from the Washburn University School of Law, served as Associate Editor of the school's law journal, and in 1991 graduated with a Juris Doctorate degree. Mark practiced law for three years before forming his own firm, Kahrs Law Offices, P.A. His emphasis is retail and commercial collections, creditor law, and civil litigation. He has a BV rating with Martindale-Hubbell Law Directory.
Mark served as President of the Wichita Creditor Attorney Association from 2009 - 2014. He is active with the Kansas Creditor Attorney Association and has provided continuing legal education classes in the areas of Kansas creditor and collection law.
Mark is a member of the Kansas State House of Representatives where he has served since 2013. He serves as chairman of the House Elections Committee and serves on the House Appropriations Committee and House Judiciary Committee.

Admitted:
Kansas – 1991
Missouri – 2008
Tennessee – 2014
U.S. District Court, District of Kansas
U.S. District Court, District of Missouri
U.S. Court of Appeals, Tenth Circuit

Professional Associations:
Kansas Bar Association
Missouri Bar Association
Tennessee Bar Association
Wichita Bar Association
Kansas Creditor Attorney Association
Wichita Creditor Attorney Association – President, 2002, 2009 - 2014
Christian Legal Society
Phi Delta Phi Member
The Federalist Society
Washburn University School of Law Journal Associate Editor
Kansas Family Research Institute, General Counsel

Professional Committees:
Kansas Supreme Court Electronic Filing Committee